Sleigh with Reindeer Pattern Bundle
Sleigh with Reindeer Pattern Bundle:
$14.95

Money Back Guarantee

This decorative sleigh with reindeer pattern bundle makes a beautiful Christmas decoration or table centerpiece OR a thoughtful gift basket filled with candies or cookies. Add Santa Claus and some edible gifts made from marzipan or gum paste! You could even use these sleigh plans to make Santa's sleigh and reindeer out of wood or other permanent materials.

NOTE: These are printable patterns, NOT cookie cutters. You simply print out the pattern pieces and then use a knife to cut the pieces out of your rolled out cookie dough (sprinkle the dough with flour so the pattern pieces won't stick).

Want juse a sleigh or reindeer (and not both)? Buy the pattern pieces separately.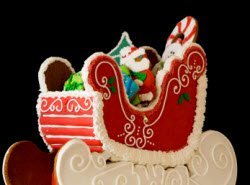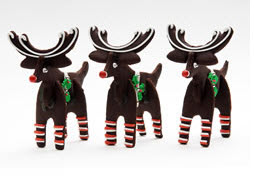 The sleigh and reindeer in these photos were not made using these templates. Ours are designed to look very similar (but with some improvements for easier assembly!) Note: Reindeer photo generously shared by www.fancyflours.com
$14.95
Money Back Guarantee
Each Gingerbread Pattern Contains:
You'll instantly receive a .pdf document that contains:
Pattern Pieces
Clear Instructions (including alternate versions and ideas)
Photos for inspiration
To use your gingerbread template, you simply print the .pdf file (we suggest printing the pattern pages on thick, card stock paper, but regular is fine too), cut the pattern pieces out of paper, lay them on your rolled out and floured gingerbread, cut along the lines, bake, assemble, and decorate. Don't forget to take pictures along the way!
The sleigh is roughly 8"W x 4"D x 6"H and the reindeer is roughly 4.5"W x 2"D x 5"H, but you can enlarge or shrink them by adjusting your printer settings.
Photos Sent In From Other Customers
Click here to submit your own photos.
---
Click here to see more gingerbread house patterns.
---
Return Home from gingerbread sleigh with reindeer pattern page.