About Gingerbread-House-Heaven.com
I built Gingerbread-House-Heaven.com for 2
very important reasons...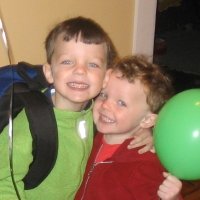 Curious about gingerbread-house-heaven.com and how it came about? Here's the not so brief story...
Want the short version? Jump down to skip the story and learn about SBI!.
I became a working mother when my first son was born. I'll never forget the knawing feeling in my stomach when leaving my baby at preschool.
I tried everything I could think of in my attempt to balance work with family. I changed companies to work part time, but ended up with full time responsibilities. Next, I tried full time work with flexible hours. That was the worst! I was stressed out all the time and I spent most of our Friday play groups on the phone with the office, putting out fires. Finally, another baby later, I quit the corporate world to spend more time with my children.
It was fun... for about a week.
I'm just not relaxed enough to be exclusively a stay at home mom. I need to feel like I'm contributing to the family paycheck. I also need that sense of identity that comes with having a career.
Still wondering where gingerbread houses come in? It certainly wasn't an epiphany while I was baking gingerbread with my sons! Nope. It's much more practical than that (Who ever thought they'd hear the word "practical" along with "gingerbread houses"!?).
Anyway, my father asked me to look into a web hosting company (of sorts) that a friend had been telling him about. Since I was a long-time programmer, I had built several websites, and I even dabbled in Search Engine Optimization for a while, my dad thought that I could see through the "smoke and mirrors" and figure out if this service was as good as it sounds. As soon as I started researching SBI!, I knew I'd stumbled onto something incredible. No smoke and mirrors at all!
In a nutshell, SBI! is kind of like a web hosting company except that it provides MUCH more than just web hosting, so calling it "hosting" is really a huge understatement. SBI! provides a comprehensive set of tools and instructions for not only building a web site, but truly building a successful home business.
What's the difference, you ask? Well, many web hosts help you build a fancy (or even not so fancy) web site. (some charge outrageously to build a basic site for you). But... Once your site is built and online,... nothing happens. It just sits there. If a web site is never actually found by people surfing the web, it's not really a business... or at least not a profitable one!

SBI! walks you through all the steps, from brainstorming a site concept (that's where I came up with gingerbread houses), to actually building the site, to doing small things that help your site get noticed in a big way. Thousands of people have used SBI! to build a successful home-based businesses around something they know and love (like gingerbread!) Just like this tight-niche gingerbread-house-heaven.com site, the range of SBI! businesses is staggering. Click here to see some of the sites people have built with the SBI! tools.
And...
You don't have to know anything about how to build a web page.
I happened to have known how to build web sites already, but MANY SBI! owners do not. I also knew enough about Search Engine Optimization, or SEO, to know that it took either a whole lot of time and effort to do this yourself OR it took a whole lot of money to pay a SEO firm to do it for you.
Most SBIers don't know these things, or the true value of SBI!, until they go through the process. It was easy for me to see right away that SBI! was an amazing deal and that it really would work. I signed up immediately… and haven't looked back yet.
Actually, I'm looking back right now… and all I can say is… Wow!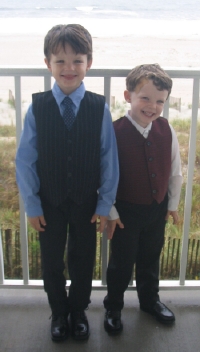 SBI! has enabled me to build a profitable home business around one of my favorite hobbies. I'm contributing to the web in a positive way (at least I HOPE that this gingerbread community is helpful and fun for you!), I'm contributing to the family income AND I'm picking up my kids from school each day at 2:30, when the memories of the day are still fresh in their minds. I'm able to attend field trips, make play dates, and volunteer (too much!) at their school.

One of my favorite things… no, my absolute favorite thing about my site is that it makes money while I sleep. Literally, while I'm sleeping or reading to my kids, someone in the world is visiting my site, hopefully getting lots of great information and ideas on gingerbread, and also occasionally clicking on a link that makes me money. No, I don't put links all over my site just to make money. They have to be for products I like and can really recommend. Now, I've even started selling my OWN products, gingerbread templates, and it's an amazing feeling to check e-mail in the morning and see that I sold several templates over night!

I've literally gone months without touching my site, much less adding any pages to it, and it still gets thousands of new visitors each day, tens of thousands each month. In fact, that number is rising too. I wouldn't be surprised if my site was visited by more than 100,000 unique visitors this December alone (Update: It's been several years since I wrote this and I now receive tens of thousands of visitors every DAY!). I spend as much or as little time as I want working on it and following the SBI! techniques, and my site keeps growing in profits. Could I do more with it? Sure! And I will…
As my kids grow, my site will grow.
Click here to read more about SBI! from a Work at Home Mom perspective. I'll get a small commission if you end up subscribing, just like those affiliate links I mentioned. But that's not why I've written all of this. I imagine, since you found my site, you might be a lot like me. If you're not a working mother or father, maybe you're just someone who wants to build a successful business from the comfort of your home (or anywhere in the world you happen to roam!) but don't know where to begin.

I believe so strongly in SBI! that I want to share it with everyone.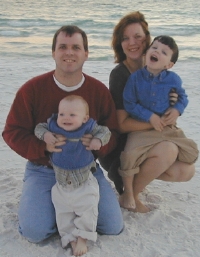 Feel free to Contact me if you have any questions about SBI! or starting your own home-based business! Or, even better, you can ask your questions over the phone with a live SBIer.

And, did I mention that SBI! has a 100% money back success guarantee?

Kelly Mann
Owner of www.gingerbread-house-heaven.com
Return to gingerbread-house-heaven.com Home Page

Click this link to watch an introductory Video about SBI!: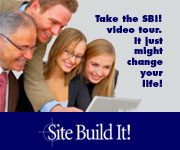 Here's one more link you might like to follow. This will take you to a page that explains SBI!'s strengths particularly as they relate to parents (or WAHMs - Work At Home Moms):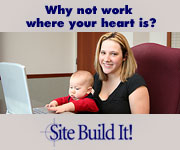 ---
Return Home from more gingerbread house photos page
---