Gingerbread Supplies and Molds
We're pleased to announce that we are starting to sell gingerbread supplies this year. We now sell leaf gelatin sheets! These make perfect transparent, edible gingerbread house windows.
New: Ninjabread Man Cookie Cutters. You have to see these to believe! And see this page for other unique cookie cutters.
We also sell gingerbread house kits and, of course, we're adding new gingerbread house patterns regularly. More products coming. Check back soon!
We're still looking for a partner who sells gingerbread supplies: gingerbread house kits, and cake decorating supplies (fondant, gum paste,...) so that we can quickly expand our product offerings. Contact Us if you're interested in working together.
In the meantime, we've compiled here a list of our favorite decorating supplies and molds that we consider must-haves and nice-to-haves for gingerbread house building.
Must-Have Gingerbread Supplies
These are our all-time favorite supplies for making gingerbread houses:
Candy Pebbles (These are the top of our list because they're SO great for chimneys, walkways, stone walls, and any other landscaping or gingerbread house accents that would be made out of stone. They're also rather difficult to find, so we list them first so you can be on the lookout and buy them before you get ready to build your gingerbread house.
Candy or Chocolate River Rocks or Stones (ditto above, It's great to have both the large size and the smaller pebble size.)
Gelatin Sheets (for beautiful glass-looking edible windows)
Icing Colors (You'll want gels for coloring fondant and other edible clays rather than regular food coloring)
Confectionery Tool Set (great for intricate designs in fondant, gum paste, royal icing,...)
Cake Decorating Set (I prefer using disposable bags, although not very "green" of me I guess. And you'll definitely want several decorating tips for applying royal icing.)
Rectangle Cake Boards (or you can use wood or other sturdy surface)
Quick Ease Roller (our favorite small rolling pin)
Icing Spreader and/or straight spatulas in a variety of sizes
Necco Wafers (great for all kinds of decorating and landscaping)
Pirouline Wafers (decorative and oh so yummy!)
Straight Peppermint Sticks (and traditional curved ones too)
Licorice Laces, Gum Drops, Lifesavers, Cookies, Packs of Gum, Raisinettes,... (and other candies that are easy to find at your local store)
Nice-to-Have Gingerbread Supplies
Non-stick flexible cookie sheet (great for making curved gingerbread pieces - simply roll tin foil under a section of the flexible sheet to form a curve)
Cooling Rack (I like the stackable or tiered cooling racks to save counter space)
Ready-to-Use Rolled Fondant (If you're planning to use lots of fondant, then make it yourself )
Ready-to-Use Gum Paste
Ready-to-Use Marzipan
Patterned Molds (You can cook the gingerbread pieces inside a mold for a clapboard, brick, or cobblestone effect)
Candy molds (great for making melted chocolate characters, like snowmen and trees, for outside your gingerbread house)
Cookie Cutters (for trees, snowmen, and gingerbread men of course!)
Edible Glitter and Sprinkles
Gingerbread House Kits (especially great for someone new to gingerbread baking or one who wants the fun without the fuss)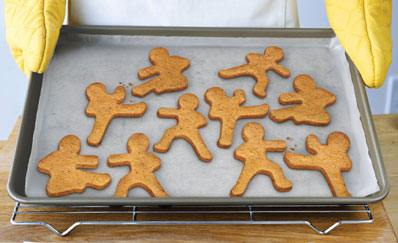 These are some of our favorites gingerbread-related supplies. Have fun building and decorating YOUR gingerbread house or gingerbread cookies! And make sure to come back and share your photos on our site!
---
Return Home from gingerbread supplies page.