Gingerbread Bungalow Template
| | |
| --- | --- |
| Bungalow Template: | |
$9.95

Money Back Guarantee
This adorable gingerbread bungalow template can be used to make a house like the one you see here, an adorable Hansel and Gretel cottage, a victorian trimmed house, or just about any other decorating style you can think up.
$9.95
Money Back Guarantee
Each Gingerbread House Pattern Contains:
You'll instantly receive a .pdf document that contains:
Pattern Pieces
Clear Instructions (including alternate versions and ideas)
Photos for inspiration
To use your gingerbread bungalow pattern, you simply print the .pdf file (we suggest printing the pattern pages on thick, card stock paper, but regular is fine too), cut the pattern pieces out of paper, lay them on your rolled out gingerbread, cut along the lines, bake, assemble, and decorate. Don't forget to take pictures along the way!
This pattern builds a house that is roughly 8"W x 7"D x 8.5"H but you can enlarge or shrink the house by adjusting your printer settings.
Photos From Other Customers
Hi! We had great fun making and decorating our little bungalow, thought we would send you a couple of pics to prove it. :-)
Merry Christmas!
Amanda and James Hayes
Hertfordshire, UK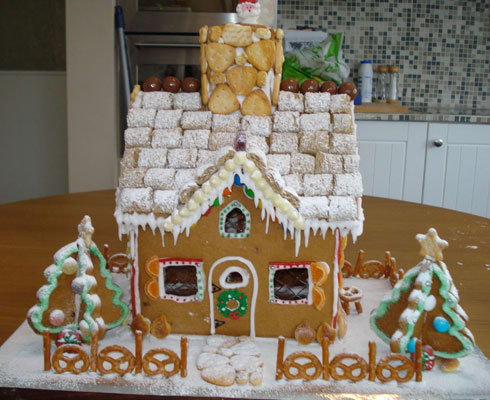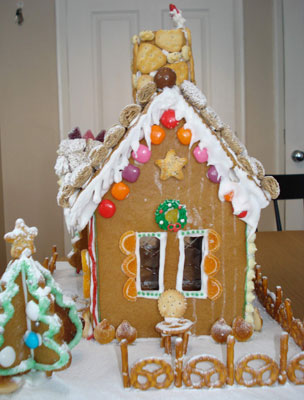 Check out the windows made with leaf gelatin sheets: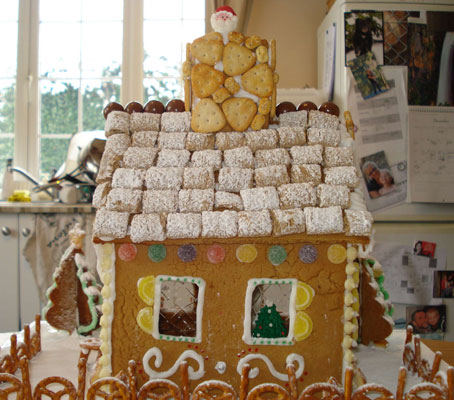 ---
Loved your Gingerbread Bungalow pattern. It was very well designed and the helpful tips sure came in handy! In fact the pattern was so easy to adapt, I took some artistic liscence and added a porch and chimney. I may add some greenery or landscaping next week, but not certain it needs it. I am proud of my first attempt...may have caught the Gingerbread Fever (I have heard rumors of such things).
Take Care,
Georganne Anderson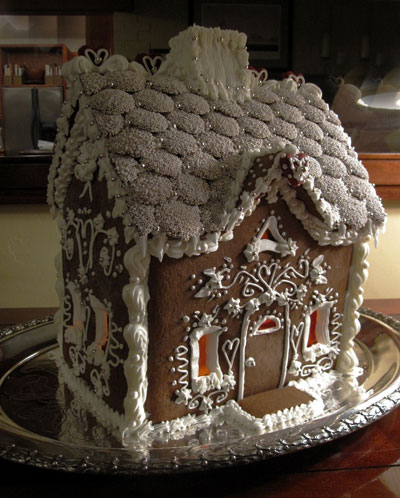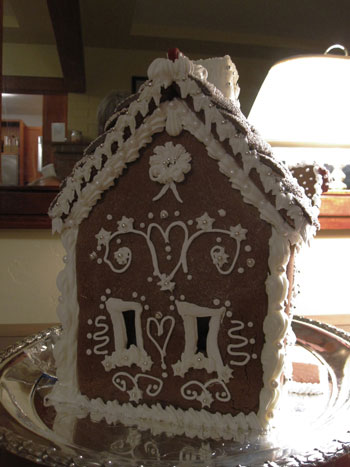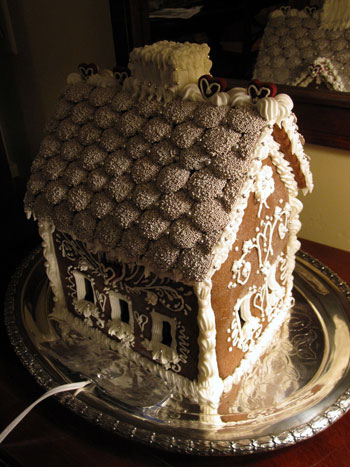 ---
This was the first gingerbread house i ever made. It was sooo much work but defintately worth every second :) I won 2 First prize ribbons
Alicia from Grande Prairie Alberta, Canada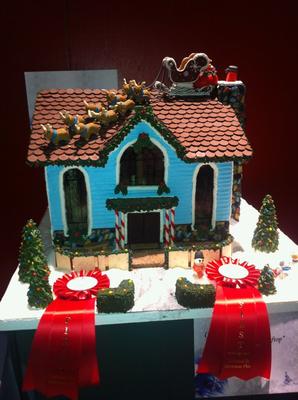 ---
Click here to see more gingerbread house patterns.
---
Return Home from gingerbread bungalow template page.