Gingerbread Men
Gingerbread men (and gingerbread women, boys, and girls) have been around for centuries. They were one of the first "Cookies" to be made for a holiday or festivity. Many variations developed in the gingerbread recipe as it spread across the globe and gained in popularity.
History of the Gingerbread Man
Gingerbread recipes began with the monks, but gingerbread men weren't the first forms of gingerbread. What were? Gingerbread cakes in the form of religious symbols and saints.
After soldiers fought the crusades in the Middle East, travelers from the West brought back many exotic spices. Ginger was one of them. It was fairly expensive to use, so it was only available to those with money. The monks began experimenting with ginger in their recipes and crafted a type of cake to celebrate with. Their gingerbread cakes honored religious symbols and saints. They carved elaborate likenesses into wood and poured the dough into the wooden gingerbread molds to cook.
The upper class people started catching on with the notion of celebrating, but used their own forms. They made carvings out of wood to depict royalty, castles and flowers. Since ginger was still expensive, it wasn't used by common folk nor was it available in the daily marketplace.
As time went by, traveling became easier and shipping methods improved. The price of ginger and other spices from the east dropped, which made them available to a whole lot more of the population. New gingerbread recipes were created and so were the uses for it.
It wasn't until the early 1800's that the actual Gingerbread men cookies were made. At first, they were balls of dough rolled together and shaped into figures. They were shaped as gingerbread men, women, royalty and children. They were decorated and enjoyed by everyone. Cookie cutters were created several years later, making the uniform shapes of gingerbread boys, pulled from the tale of Hansel and Gretel.

Gingerbread Man Recipe
Here is a "standard" gingerbread cookie recipe:
½ c butter or margarine
½ c white sugar
½ c molasses
1 egg
2 c flour
½ tsp salt
½ tsp baking soda
½ tsp baking powder
1 tsp cinnamon
1 tsp ground cloves
1 tsp ginger
½ tsp nutmeg
In a bowl, mix margarine and sugar. Stir in molasses and egg until smooth. In a separate bowl, mix flour, salt, powder, soda and spices. Slowly pour into the creamed mixture and mix until smooth. Place in a sealed bowl and chill for at least one hour in refrigerator.
After chilling, lightly flour a flat surface. Roll a portion of the dough to ¼" thickness and use cookie cutters. Place on cookie sheet and bake for 8 to 10 minutes at 350 degrees. Cool on wire racks before decorating.
Do you have a gingerbread man recipe you love? Please share it.
Decorating Gingerbread Men
The best part of gingerbread cookies is decorating them. Kids especially love this part! Use raisins, icing or cinnamon red-hots for eyes, noses, mouths or buttons. Icing can be piped for fancy cookies to resemble clothing or hair.
Ninjabread Men?
Want a Modern Twist on Gingerbread Men? Try our ninjabread man cookie cutters.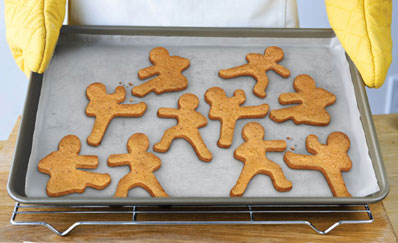 Variations in Gingerbread
Other variations of gingerbread dough include Lebkuchen, which uses honey instead of molasses for sweetening. The dough is white and rolled into a rolling pin with shapes before baking. In Italy, they make a panforte which is a denser recipe using even more spices.
Have you decorated gingerbread man cookies lately? Please share your photos. Click here to add a page to this site with your OWN photo!


---
Return Home from this gingerbread men page.
---