Edible Christmas Gifts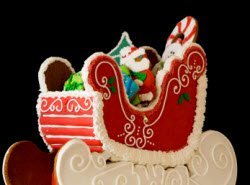 Gingerbread is perfect for edible Christmas gifts! Homemade or purchased, large or small, your loved ones will LOVE receiving a gift they don't have to find space for in their homes. Edible holiday gifts make terrific centerpieces and decorations during the holidays and a yummy dessert or snack for all the family and friends visiting.
Our gingerbread sleigh template makes a terrific gift basket to fill with goodies (chocolates, candies, candy canes, or more gingerbread!

Another great Christmas gift idea is a bowl made of gingerbread. Fill it with goodies, Christmas cookies, candies, or even candles and ornaments, as shown here, for a beautiful centerpiece. See our instructions for making a gingerbread bowl here.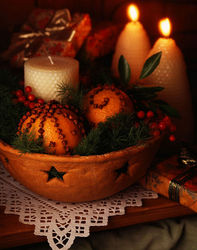 Baking your own edible creations is extra-special but, if you just don't have the time, there are plenty of gingerbread cookies and gingerbread house kits that you can have deliveried. For something truly special, have something custom-made for your loved ones.
Send a gingerbread house kit as an edible Christmas gift to someone far away from you OR hand-deliver a pre-built and pre-decorated gingerbread house to someone who wouldn't enjoy doing the work themselves!
As a little girl, one of my fondest memories (and the background to this entire site!) is the gingerbread house kit my grandparents sent our family every holiday season! It would arrive about a month before Christmas and we would take our time eating it piece-by-piece. It was filled with cookies (You'd lift the roof off and the gingerbread cookies and candies were inside!) and it smelled oh so good! It was truly magical! I highly recommend this edible gift idea, especially for families with kids of all ages!
Alternatively, make them a ravishing Christmas table centerpiece using a mix of gingerbread cookies and frosted fruit (check out this Christmas table decoration idea for the frosted fruit recipe!)
Of course, gingerbread isn't just perfect for Christmas, but any time you want to give edible gifts. Add gingerbread to a fruit gift basket, make a box out of gingerbread to hold chocolates or homemade cookies, or add gingerbread cookies to any other edible gourmet gifts. Make a gingerbread Easter house for whoever's hosting you for Easter supper or make a haunted gingerbread house for a Halloween gift (or someone with a birthday in October). Check out our beach house template as a gift to someone who shared their beach home with you over the Summer!
With a little creativity, you can even use gingerbread cookies to make edible gag gifts. I once made "edible underwear"... boxer shorts made out of a gingerbread cookie! The recipient was really afraid to open the box because I wrote what was inside on the card. Once I talked her into opening it though, she was less embarrassed. It was a perfect gag gift!
So think outside the box with your edible holiday gifts. And make sure to come back to this site and share your photos!
More Edible Christmas Gift Ideas
Have A Great Edible Gift Idea?
Have any edible gift ideas you can share with the rest of our readers? Please share!
---
Return Home from this edible Christmas gifts page.
---