Pastillage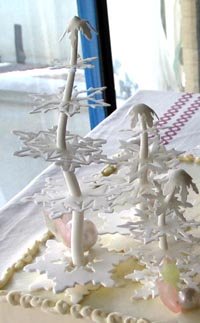 Pastillage is a mixture of powdered sugar, gelatin, and cornstarch that dries to a porous, rigid form.
With care and patience, it's possible to make very intricate pastillage showpieces, such as detailed flowers, figures, and even delicate architectural details - perfect for victorian trim on gingerbread houses!
Take a look at the detail work on the trees to the right! Aren't they beautiful? This cake topper was created by "chefette" on the eGullet forums (eGullet is a society for culinary arts.)
Because pastillage dries so quickly and is very fragile once dry, it's more difficult to work with than fondant, gum paste, or marzipan. Don't know the difference between all of these? Read this page. Don't be afraid to try your hand at pastillage though. The results can be stunning. Here's a simple recipe, so give it a go.
Pastillage Recipe:
Ingredients:
1 package Plain Gelatin
1/2 cup Water
1 teaspoon Cream of Tartar
5 cups Powdered Sugar, sifted
1 cup Cornstarch, sifted
Steps (how to make pastillage):
If you haven't already, sift the powdered sugar and cornstarch together.
In a small saucepan, combine water and cream of tartar. Sprinkle in the gelatin and stir over low heat until gelatin is completely dissolved. Note: cream of tartar may not dissolve completely, but make sure the gelatin does.
Remove from heat and transfer the liquid to a large mixing bowl.
Add the dry ingredients, a small amount at a time, mixing at a low speed with a dough hook attachment ideally (Note: aluminum attachments may turn the pastillage gray.)
When all dry ingredients have been mixed in, change to a medium speed until the mixture is light and very white (2-4 minutes.)
Cover bowl tightly with plastic wrap (or remove dough from bowl and wrap the dough ball in plastic wrap) and let sit for 1/2 hour.
Roll out with cornstarch and play!
Pastillage Tips:
Pastillage dries very quickly, so be sure to keep unused portions wrapped tightly in plastic wrap and work with a small amount at a time.
Pastillage can be colored with powdered food dye by either adding color to the liquid before mixing or by kneading the desired color into the dough. Do not use water-based dye. You can also use alcohol-based dye to paint the surface of your pastillage figure.
Knead in cornstarch as necessary.
Allow 12-24 hours for your pastillage pieces to dry completely before handling (more if humid.)
Use royal icing as glue to attach your pastillage pieces to each other or to other objects (cakes, gingerbread houses,...) Other options are to thin out some pastillage with a little water or to heat up regular pastillage in the microwave for just 10-15 seconds (careful - this dries especially fast.)
You can view and share pastillage photos here. Try making your own pastillage showpieces and comment on others'.
Pastillage Cracking:
When you've spent a great deal of time making intricate pastillage pieces, it's very frustrating to encounter pastillage cracking. Unfortunately, it happens.
Working quickly with pastillage is the best way to avoid drying and cracking. Still, very fine pastillage showpieces may require sanding with an emery board and that's when cracking or breaking is most likely to occur. Plan for this and make duplicates of any critical pieces just in case.
One tip to avoid pastillage cracking is to allow it to dry on a rigid, absorbent surface. Rotating the pieces occasionally (and carefully) can help with drying (since the water will sink to the bottom.
These incredibly detailed and beautiful pastillage showpieces were made by the owners of chocolatework.com. You can read the details about how each was made here: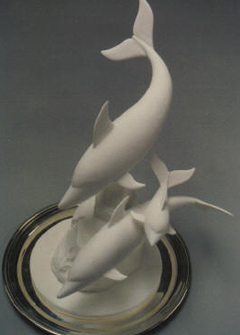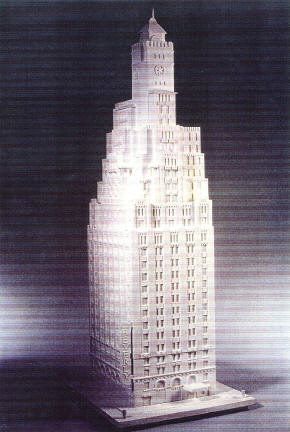 More Photos:
Photos of all kinds of edible creations
Photos specifically of fondant and gum paste creations
Photos of marzipan creations
Photos of gingerbread houses


---
Return Home from Pastillage page.
---