Edible Creations
These edible creations will entertain and inspire you. Look at other visitors' photos below or share your own.

This page is for close-ups of your gingerbread house decorations or other edible decorations (for cake decorations, centerpieces, showpieces, or otherwise) made from fondant, gum paste, marzipan, pastillage, rolled/pulled/blown sugar, molded chocolate, or any other forms of edible art.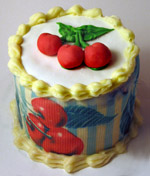 Cherry Cake created by Jill Osborn of Atlanta, GA
If you want to read a little about all of these different edible clay methods, click here.
Photos of your Edible Creations
Have you made any edible creations you can share with others for inspiration?
Other Visitors' Edible Creations
Click the links below to see contributions from other visitors to this page...




Want to see more spectacular photos of fondant, gum paste, and marzipan? Check out these pages:

Photos specifically of fondant and gum paste creations
Photos of marzipan creations
Photos of gingerbread houses






---
Return HOME from edible creations page.
---