Gingerbread Castle
| | |
| --- | --- |
| Gingerbread Castle Template: | |
$9.95

Money Back Guarantee

This gingerbread castle pattern can be made a number of ways, from quite simple to fairly elaborate: With or without a center tower and with or without turrets/cones on top of the towers.

The medieval and haunted castles below are both WITH a center tower but WITHOUT the turrets. Add turrets (use ice cream cones), decorate it pink, and it becomes Cinderella's castle (leave out the bloody fountain too!). The second row of pictures below shows a great example of an elegant castle with cone turrets.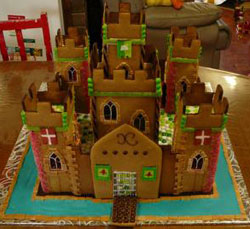 Here's a medieval castle made by Celine of Western Australia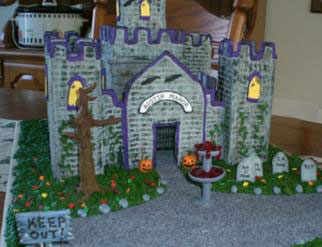 This Haunted Castle was made by
Mattie Austin of Newport, NC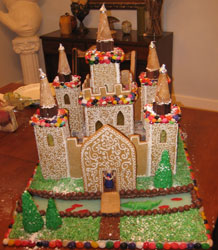 Here's the Castle with Turrets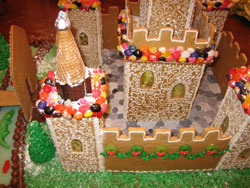 This beautiful castle was made by Mara Evans of Bluffs, IA

Here's the simplest version of the castle
(I keep picturing a huge gum paste or cake dragon inside!)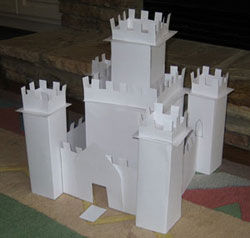 Here's the template made out of paper
(We recommend you build it this way 1st)
$9.95
Money Back Guarantee
What Will You Get With Your Template?
You'll instantly receive a .pdf document that contains:
Pattern Pieces
Clear Instructions (including alternate versions and ideas)
Photos for inspiration
To use your castle template, you simply print the .pdf file (we suggest printing the pattern pages on thick, card stock paper, but regular is fine too), cut the pattern pieces out of paper, lay them on your rolled out gingerbread, cut along the lines, bake, assemble, and decorate. Don't forget to take pictures along the way!
Dimensions of the castle:
Outer towers and walls: 16"W x 16"D x 10"H (not including cone turrets)
Inner towers: 6"W x 6"D x 17"H (not including cone turrets)
Note: you can enlarge or shrink the castle by adjusting your printer settings.



Photos Sent In From Other Customers
I've thoroughly enjoyed seeing all of the creativity of our readers with this template! When I designed it, I never even dreamed of making it into a spooky Halloween castle! I was picturing only stone, gothic, fairy tale,... castles. Check out some more of our readers' creations with this template: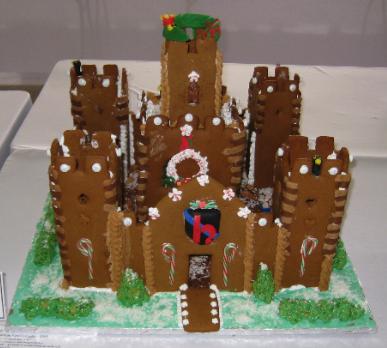 Here's a beautiful one submitted from the Houseman family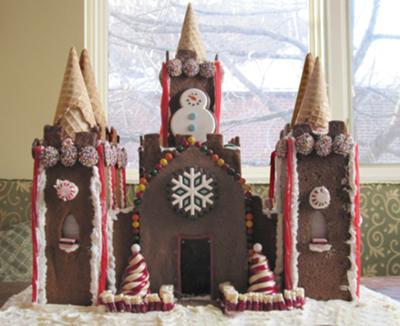 Here's a great castle submitted by Nick Norie of Denver, CO.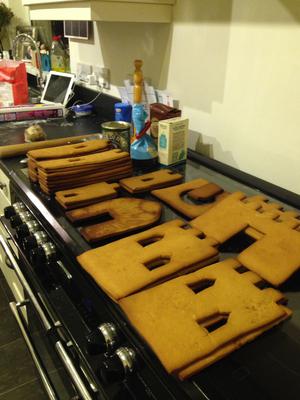 Wendy Johnston from Belfast, Northern Ireland shared this photo of her castle pattern cookies fresh out of the oven.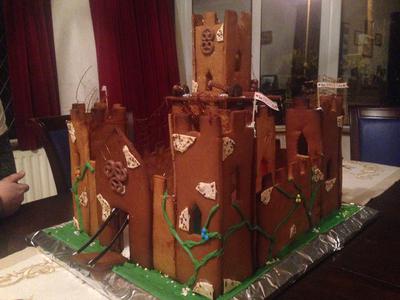 And Wendy's finished product!



And here's another reader's cookies out of the oven, just waiting to be assembled into the beautiful castle below.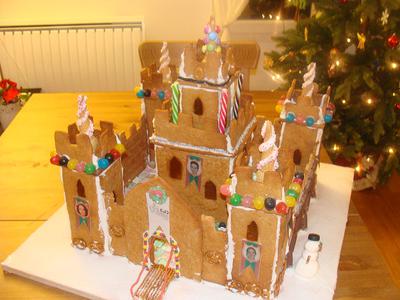 Sandrine's finished product! Thank you for sharing Sandrine from Paris!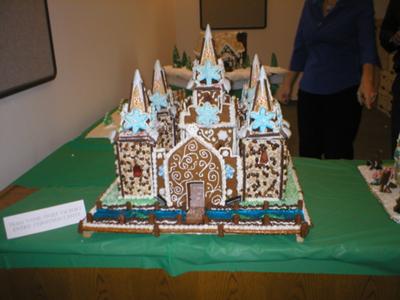 Karen Aschoff from Grass Valley, CA shared her award-winning "Castle Wonderland".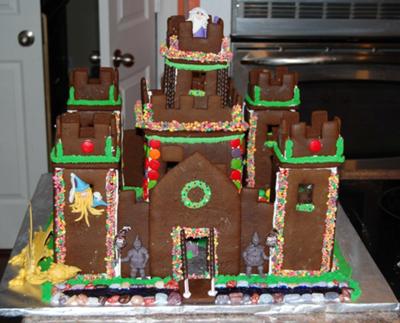 Amy from Coppell, Texas shared her "Wizard's Castle".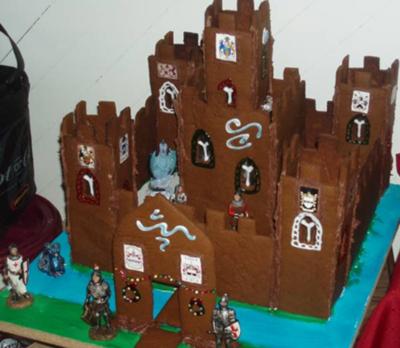 Lydia from Alberta, Canada shared this castle that she built with her son.



Click here to submit your own photos.
---
Click here to see more gingerbread house patterns.
---
Return Home from gingerbread castle template page.