Gingerbread House Ponds
Gingerbread House ponds, lakes, or other water bodies/water features can really make a gingerbread scene come to life.
Have you ever been to a house with an elaborate pond? There's something so relaxing about a pond. Watching the coy or other fish swim around can just mesmerize you.
Do you feel happiest at the beach? Whether it's the ocean, a lake, river, or simple pond, being around water makes me feel at my best.
With gingerbread house ponds, the water feature is generally so unexpected that it brings an incredible amount of joy to those who view it. And... it's not as hard as you might think.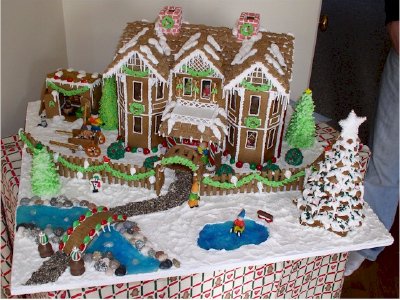 Photo by Bob & Betty Arms 2002
Gingerbread House Ponds - Methods:
Here are some of the easiest ways to incorporate a water feature into your next gingerbread house:
Spread out a thin layer of blue, translucent icing.
Melt Blue Jolly Ranchers or Lifesavers.
If all you can find is opaque icing, just die it a little darker.
Unroll and cut a blue fruit roll-up type candy in the desired shape. Then, simply lay it down on the gingerbread house base and voila!
If the house won't be displayed for long, blue jello can look great. It will need to be thicker than the methods listed here though, so you'll need to contain it somehow. This can work great for a swimming pool. Or you can raise the surrounding landscaping to match.
Flatten blue gum drops or gummie candies with a rolling pin.
Use blue sprinkles on blue icing while it's wet (so they'll stick.)
For a frozen pond (for ice skating of course,) you can even just use the same aluminum foil that you covered the base with. Cover the entire landscape except for your pond. The glittering foil will look just like ice.
One visitor wrote to tell us that she uses mirrors for ice ponds. Great idea! Thank you Allison!
Sam from Australia wrote to give us this tip: For ponds, lakes or rivers, you can use blue jelly, You need to put something around it and then you just put a small layer of blue jelly and it looks as if it is in the ground.
Do you have a method for gingerbread house ponds not mentioned here? Please share it, along with a photo.
Gingerbread Water Feature Accents:
Once you've built your water feature, trim it with some of these accents:
Gummie fish or sharks.
Candy rocks for boulders and stepping stones.
Build a bridge across a stream or river.
Ice scaters or an ice fisherman on light-blue or silvery ponds.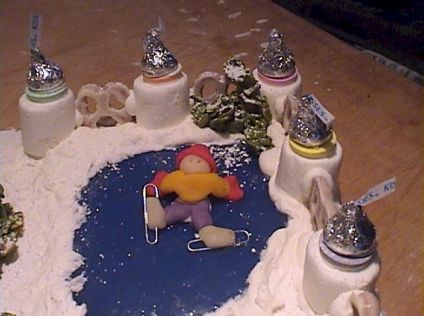 Photo by Anderson 2002
Think outside the box a little (as with ALL things gingerbread.) There are countless possibilities for incorporating water into your gingerbread house...
Ponds, Lakes, Ocean (dock), Waterfall (yes, we've actually seen this done!), river, fountain, fishing hole, or even a simple water pump in the yard. Gingerbread house ponds and other water features can really add some personality to your creation.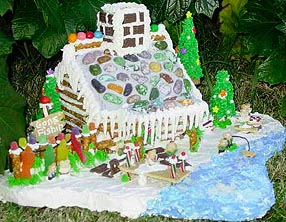 Photo of Gayle F's Finalist entry in the Brach's contest
Have a Gingerbread House Photo to Share? Maybe one with a pond you're proud of? Click here to add a page to this site with your OWN photo!
---
Return Home from gingerbread house ponds page.
---