Best Recipes for Ginger Snaps
I've hardly tasted ginger snaps that I didn't love. However, the variety of tastes and textures depending on the recipe you try is amazing! Some are light and mild... some dark and spicy... some chewy... and some extra-crisp.
Regardless of the recipe, make sure to try these cookies dipped in milk! Something about the combination works especially well.
We've narrowed it down to the all-time best ginger snap cookie recipes here. It's a tough job... but somebody has to do it ;-)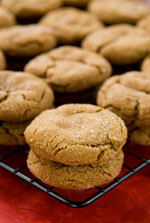 This first recipe is a combination of the best elements from lots of old-time recipes:
Old Fashioned Ginger Snap Cookie Recipe
Ingredients:
¾ cup Shortening (or ½ cup shortening and ¼ cup margarine)
1-cup Light Brown Sugar, firmly packed
¼ teaspoon Salt
1 egg
4 Tablespoon Molasses
1 Tablespoon Water
2 ½ cups Flour
2 teaspoon Baking Soda
1 teaspoon Ground Ginger
1 teaspoon Ground Cinnamon ½ teaspoon Ground Cloves
Steps:
Cream together the shortening and brown sugar until light and fluffy.
Add the salt, egg, and molasses, and beat well.
In a separate bowl, sift together the flour, baking soda, ginger, cinnamon and cloves.
Add dry ingredients (in small increments) to the wet ingredients and combine well.
Chill in the refrigerator 1-2 hours or overnight.
Preheat oven to 350 degrees.
Shape dough into walnut-sized balls.
Roll dough balls in sugar (optional.)
Place dough balls 2 inches apart on greased cookie sheets and flatten slightly.
Bake at 350 degrees for 12-15 min until golden brown.
Tips:
Store in an airtight container to keep crisp.
Here's a more modern ginger snap cookie recipe. Try them both and let us know which you prefer!
Modern Ginger Snaps
Ingredients:
2 cups Flour
1½ teaspoons Baking Soda
½ teaspoon Salt
1½ teaspoons ground Ginger
2 teaspoons ground Cinnamon
½ teaspoon Black Pepper
11 Tablespoons Unsalted Butter, softened
2/3 cup Sugar
1 egg
½ teaspoon Vanilla
¼ cup Light Molasses
Steps:
Mix together the flour, baking soda, salt, ginger, cinnamon, and pepper.
In a separate, large bowl, beat the butter until soft and fluffy.
Blend in the sugar until smooth.
Add the egg, vanilla, and molasses and continue mixing until smooth.
Add the dry ingredients to the wet ingredients in small increments.
Divide the dough in 2 pieces.
Roll each piece of dough into cookie rolls on lightly floured surface, wrap in wax paper or plastic wrap, and refrigerate for 1-2 hours or overnight until dough is firm (Note: dough can be refrigerated for up to 5 days or frozen for up to 3 months.)
Preheat oven to 350 degrees.
Line baking sheets with parchment paper or grease cookie sheets.
Slice about ¼ inch wide slices from the rolls.
Optional: Dip each slice in sugar (course sugar works best.)
Lay out on cookie sheets 2 inches apart with the sugar side up.
Bake at 350 degrees for 10-14 minutes or until golden brown.
Tips:
Store in an airtight container.
More Cookie Pages
Try these other ginger cookie recipes:
Crisp Ginger Cookies
Soft Ginger Cookies
Gingerbread Cookies
---
Return Home from this ginger snaps page.
---