Ginger Cookies
I still remember the first time I had ginger cookies that were not gingerbread! Wow! Our new neighbors brought a bag of little cookies over. They were delicious, but I remember it well mostly because WE had not just move in... THEY had!
Well, as embarrassed as I was that our new neighbors were more welcoming that we were, I asked for the recipe and a friendship started.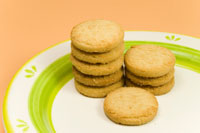 These ginger cookies were the best I had ever tasted and this recipe still wins out for me. You can't make a house out of it... but if I'm judging by taste alone, this one is the winner (Thanks Stacey!):
My All-Time Favorite Ginger Cookie Recipe
Ingredients:
½ lb (2 sticks) Unsalted Butter at room temperature
1 cup Sugar
½ teaspoon Salt
1 large Egg Yolk
1 large Egg
2 teaspoons Vanilla
1-3 teaspoon ground Ginger (I prefer 3!)
2 ½ cups Flour
6 Tablespoons (or more) Candied Ginger
Steps:
Combine butter, sugar, and salt
Add egg yolk and beat until well-blended
Add egg, vanilla, and ground ginger
Beat until well-combined
Reduce speed to low and beat in flour and candied ginger
Divide the dough into 3 or 4 pieces
Roll into cookie rolls, wrap in wax paper, and refrigerate for 1-2 hours until dough is firm (Note: dough can be refrigerated for up to 2 days or frozen for up to a month.)
Preheat oven to 375 degrees.
Grease cookie sheets.
Slice about 1/8 inch wide slices from the rolls and lay out on sheets.
Bake at 375 degrees for 6-8 minutes or until golden brown.
Tips:
Farmers Markets usually sell the best candied ginger.
You can also make these as traditional drop or cookie-cutter cookies. I just prefer the uniformity of the roll cookies. The rolls are also easier to make ahead and defrost later.
The above cookies come out rather crisp (not too hard though.) If you prefer a softer ginger cookie, check out our soft ginger cookie recipes. Here is another crisp recipe (although it can be softened by cooking at the lower temperature):
Ginger Cookie Recipe II
Ingredients:
1 cup Sugar
1 Egg
¾ cup Shortening
1 teaspoon Cinnamon
1 ground Ginger (add more for an extra spicy flavor)
¼ teaspoon Salt
¼ cup Dark Molasses
2 ½ teaspoons Baking Soda
2 cups Flour
Steps:
Combine all ingredients except baking soda and flour.
Mix until well-combined.
Stir in baking soda and flour.
Chill dough for 1-2 hours (optional.)
Preheat oven to 375 degrees.
Grease cookie sheets.
Add more flour, in small increments, if dough is too soft.
Form dough into small balls and roll in sugar.
Place dough balls on greased cookie sheets (do NOT flatten.)
Bake at 350-375 degrees for 10-12 minutes or until just before they start to flatten (they'll puff up first and then start to flatten.)
Tips:
Alternatives for shortening: You can use half shortening and half margarine. One reader even uses Olive Oil for a healthier alternative.
More Cookie Recipes
Want a different kind of ginger cookie? Try one of these pages full of yummy recipes:
Soft Ginger Cookies
Gingerbread Cookies
Ginger Snaps
---
Return Home from this ginger cookies page.
---