Gingerbread Bowl Recipe
This gingerbread bowl recipe makes a perfect Christmas centerpiece or a thoughtful gift. Fill it with decorated gingerbread men, cookies, candies, or any other holiday treat. See the beautiful gingerbread bowl in this photo to the right?
OR use this bowl plan to make the base of an interesting, round gingerbread house (or gingerbread igloo!)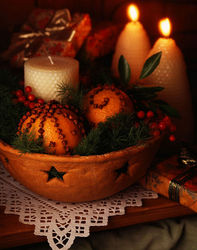 Gingerbread Bowl Recipe:
Steps:
Mix up a batch of gingerbread using one of the recipes on this site such as the basic one on this page.
Choose an oven proof bowl the desired size and cover the outside of the bowl thoroughly with aluminum foil (wrapping the foil around the lip of the bowl.)
Place the foil-covered bowl upside down onto a baking pan and spray thoroughly with a non-stick cooking spray.
Roll 1/3 - 1/2 of the gingerbread dough (depending on the desired bowl size) out on a floured surface into a circle about 1/4 inch thick.
Place rolled dough onto the sprayed, foiled upside down bowl and press gently onto bowl surface. It's OK (great in fact) for the gingerbread dough to stretch longer than the bowl.
Trim around the perimeter of the bowl to cut off the excess gingerbread (set aside for cutting gingerbread cookies out of.)
If desired, use a cookie cutter to cut out a repeating pattern around the gingerbread bowl (small gingerbread men, hearts, or any other pattern) leaving enough space between cut-outs for stability (1½-2 inches.)
Refrigerate bowl on baking sheet for 1½-2 hours.
Bake at 350 degrees for 20-30 minutes or until golden brown.
Cool completely.
Carefully remove gingerbread bowl, foil and all, from original bowl and then peel away foil.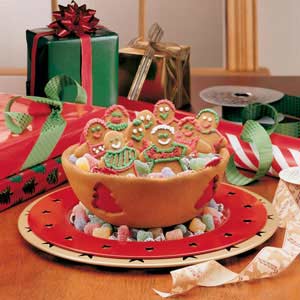 Photo from tasteofhome.com
Here's a beautiful example of a gingerbread bowl with cut-outs. They've lined the bowl with a bright red napkin to make the tree-shaped cut-outs stand out.
Here's another creative idea for this gingerbread bowl recipe. Keep it upside down and cover it with icing and sugar cubes to make a gingerbread igloo. The opening is made with another rounded gingerbread piece... baked similar to the bowl but on a foil-covered and sprayed can. Any over-proof item can be used as a base to shape gingerbread.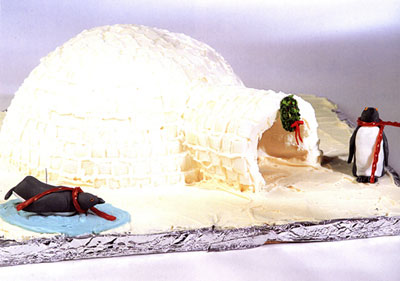 Photo from Making Gingerbread Houses by Veronika Alice Gunter
---
Return Home from gingerbread bowl recipe page.
---