The Great Fire of London(!)
by Jen
(Cambridge, UK)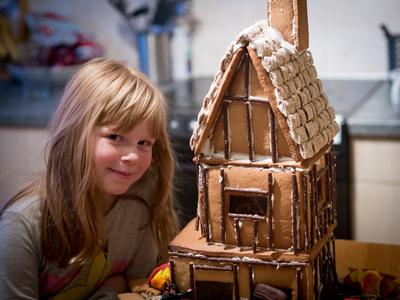 Jess & her Great Fire of London gingerbread house
Every Christmas I make a gingerbread house, the theme of which is decided by my daughter (whose birthday is on 28th Dec). This year, for her 9th birthday, she wanted...a Great Fire of London themed one as she loves that period of history!! (Good grief!)

I didn't know where to start & Kelly's template saved me! It was so useful to have one planned out already and saved me hours of stress and work.

The house turned out pretty good I think! It even has Samuel Pepys with his Parmesan cheese, which he buried during the Fire - and was an essential element as requested by my daughter. There are people inside & there are battery operated candles in there, to look like it's burning (macabre I know!).

We went to London for a walking tour about the Fire the day of her birthday & have been eating the house ever since! She was really delighted with it. Thank you so much for the template Kelly!
Join in and write your own page! It's easy to do. How? Simply click here to return to Gingerbread House Photo.