The Dr is In! 2013 contest house
by Ruth Chichester
(Front Royal, VA)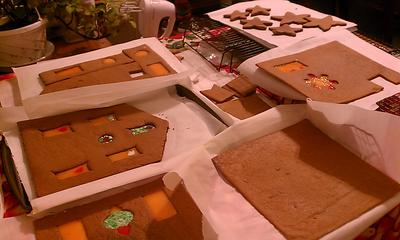 The pieces ready for construction, except we had to make a new roof!
This house was a challenge! I modified the "mansion" pattern offered on this site to make our house this year. I wanted it a little larger, which was great, but! I discovered, when I went to place the roof pieces why bigger is not necessarily better! Some serious sagging was present in these larger pieces! But, I figured out a remedy for it and forged on ahead, after making a new batch of gingerbread and new, thicker roof pieces! I also had to "guess" on the dimensions for the wing roof pieces, and had to redraft these as well.

The tardis was my 12 yr old son's idea, being a big Dr Who fan! So, after he built it and finding that it leaned a little, he decided to make it look as though the tardis came down and crushed a gingerbread man! LOL He had a lot of fun building it and used blue, glitter gel icing to frost it. Next year, he wants to build a bigger one!

I pushed hard to make this in a matter of days and it was not completely decorated as I would have wished, due to time constraints. I vow I need to give myself MUCH more time next year and maybe even decide on a design months in advance! But, considering this was only my second house built, I think I did a pretty good job anyway!
Join in and write your own page! It's easy to do. How? Simply click here to return to Gingerbread Contest Photos.