Tammy's Gingerbread House 2013
by Tammy Graf
(Woodland Hills, CA)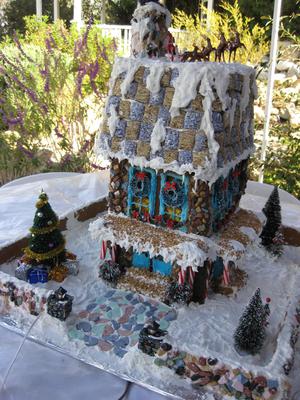 Tammy' Gingerbread House 2013
Good Afternoon,

You guys were so kind to publish my gingerbread house from 2012 (Tammy's Victorian House), so this year I bought your "Two-Story City House" Template and had some fun with it. Note: I'm an amateur not expert. hahaha.

If you can see by the pictures the 2 front lights light up and I put a light bulb on the inside of the house to illuminate the windows. I put Santa and his reindeer's on the roof with the notion that he just dropped off presents and put them under the tree in the front yard.

Ingredients:
Roof: Blueberry shredded wheat
Awnings, Front and side steps: Grape nuts cereal
Front Walk way : nickle wafers
House Wall, chimney and the Fence: Chocolate Rock candy

Thank you so much for taking the time to look at my pictures.
Tammy

.