Snoopy's House at Christmas - Quintiles 2010 Gingerbread House Contest
by Sandy Byrd
(Durha, NC, USA)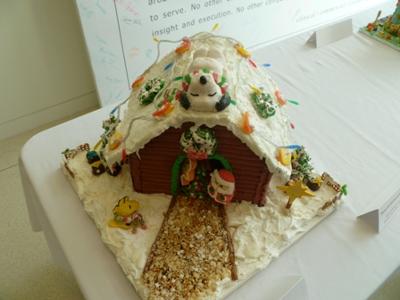 Snoopy's House at Christmas
Our team started out thinking about creating a really cool dog house, then we thought "How can we get any cooler than Snoopy". So we went with it and the ideas of the members of the team just came together.


The walls are colored icing applied to looked like plank. Snoopy, Woodstock and the Star of David are made from fondant. The Christmas scarves and wreath bows are made from sliced gum drops. The sidewalk is made from a combination of rice crispy cereal, chopped pine nuts and Chocolate sprinkles. The trees and wreaths are made with stacked cereal and colored icing. Santa is a candy lollipop.
The roof is covered with icing and is pretty heavy so we built a tower of rice crispy treats and placed them inside in the center to stabilize.
The lights are battery operated and the pack is covered with candy drops. The little gift boxes by the trees are truffles with colored Twizzlers as the bows.
This was the first house for all of us and we had a blast. I'm coordinating the next contest now!
Join in and write your own page! It's easy to do. How? Simply click here to return to Gingerbread Contest Photos.