Small Gingerbread House
| | |
| --- | --- |
| Small Gingerbread House: | |
$7.99 (assembled) / $6.99 (unassembled)
| | |
| --- | --- |
| | This Small Gingerbread House comes either preassembled or unassembled. You get the prebaked house only so you can choose your own candies and icing! |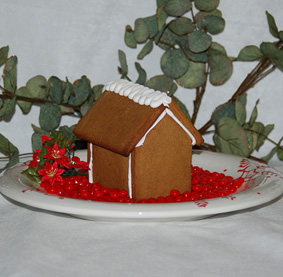 This comes with a prebaked gingerbread house only. See below for ingredients and contents list.
Available: Assembled or Unassembled
Finished size: 2½" x 3¾" x 3¾"
We bake this gingerbread house fresh! Please allow 5-8 days (7-14 days) for your order to be baked and packed.
Want to pre-order for a date in the future? Follow the gift request form link below (even if it's a gift to yourself!)
Prefer a full kit, complete with icing and candies? We also offer the gingerbread house kit.
$7.99 (assembled) / $6.99 (unassembled)
This Prebaked Gingerbread House Contains:
pre-baked, pre-assembled or unassembled gingerbread house (2½" x 3¾" x 3¾"H)
Cardboard base for house
Detailed Instructions for assembly (if unassembled)
Is This House a Gift?
Want to send your prebaked gingerbread house as a gift? It's easy! Simply click here to open our Gingerbread Gift Request page and fill out the form.
Small Gingerbread House Contents and Ingredients:
Gingerbread:
Bleached, Enriched Wheat Flour (wheat flour, niacin, reduced iron, thiamine, mononitrate (vitamin B1), riboflavin (vitamin B2), folic acid); Unsulfured Molasses; Butter (sweet cream (milk), salt); Sugar; Water; Baking Powder (corn starch, baking soda, sodium aluminum sulfate, monocalcium phosphate); Ginger; Cinnamon; Baking Soda; Cloves; Salt, Soy Lecithin.
Manufactured in a facility that processes peanuts, almonds, walnuts, macadamias, cashews, hazelnuts, pecans, and coconut.
Houses are packaged inside bubble wrap and then boxed for safe shipping:
---
Click here to see more gingerbread houses.
---
Return Home from prebaked small gingerbread house page.