Santa's Workshop
by Shirley Trask
(Palm Bay, Florida)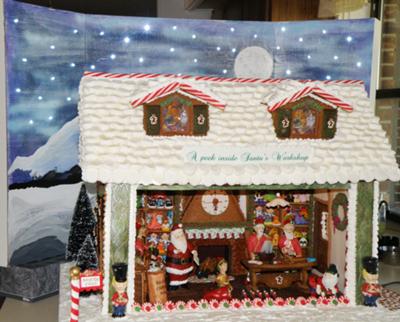 Santa's Workshop
Santa's Workshop was a very large "diorama type" piece measuring 32" wide by 24" deep and 30" tall. It is a peak inside Santa's workshop and the elves are busy filling the wish lists of good children everywhere.

All the elves and Santa are made of gumpaste, the furniture from gingerbread, the toys from royal icing, presses sugar or gumpaste. The interior walls are gumpaste, the floor is chocolate fondant embossed to look like wooden planks. Many of the elves and toys were molded from chocolate molds, then painted with a mixture of vodka, paste food color and a little cornstarch.

I began making the toys in late August, then the furniture and other interior pieces. The roof trusses are 3/4" thick gingerbread made of non edible gingerbread made with honey. It dries rock hard and is very strong. The face decoration on the front edges is gumpaste rolled out over decorative wood trim to get the impression, then left on a flat surface to dry. Then I painted them with paste food color and vodka, and dusted them with metalic petal dust.

The roof is made of marshmellows cut into thirds. I needed a roof that didn't have alot of weight, so my gingerbread is fairly thin and the marshmellows were glued to the roof with royal icing.

The windows are sheet gelatin. The fireplace has cinnamon stick logs and tiny led lights in red, yellow and orange that flicker, making it look like a real fire is in the fireplace.

All the signs on the building are made from sugarpaper. I went to my local Walmart with 4 pages of pictures, signs and had them printed on sugar paper, the same as if you were putting a photograph on a birthday cake. I mounted the cut out signs on rolled out gumpaste and let them harden.

This gingerbread creation was at the Volusia Mall in Daytona,Fl from November 14-January 3rd in the Gingerbread Magic Contest. It won a People's Choice first place ribbon.
Join in and write your own page! It's easy to do. How? Simply click here to return to Gingerbread Contest Photos.