Row Houses Times Two
by The Patneau/Donahoe Clan
(Northwest Arkansas)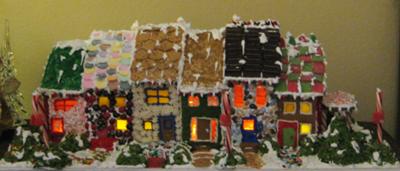 Front view
This was the result of a family christmas project involving both adults and several children between 4 and 10. We made a row of 6 houses, with each child/group decorating one of them. We included interior lights, feeding the string through a channel we cut through the connecting walls. It was the perfect pattern for a group project. Everything except the lights was edible.

We enjoyed it at our gathering the weekend before christmas, then took it to a community shelter for them to enjoy.
Join in and write your own page! It's easy to do. How? Simply click here to return to Template-Built Gingerbread House Photos.