No Business Like Snow Business
by Deanne Topping
(Sevierville, TN)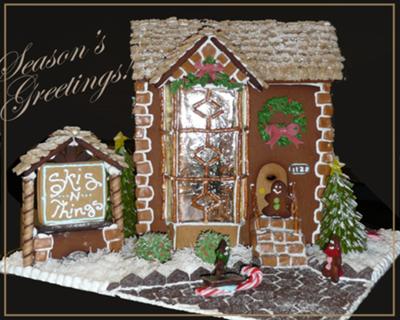 Front
First place ribbon for the medium size entries in The Fantasy of Trees 2008 - 'There's No Business Like Snow Business!'


I made 2 shades of gingerbread cookie dough.
You can see the lighter dough on the sign face, the front door, and the round window in the back.
The windows are created with a glass sugar candy recipe.
The curved window in the back was made by shaping the dough and glass candy around a mug.
The large trees are from cutting green licorice into little pieces and icing them to ice cream cones.
Caramel cubes were cut to make the corner bricks.
The roof top (and sign top) was made by pieces of trisket crackers.
The walkway is the Light Oreo Snack Crackers.
Pretzels give detail to the windows.
Big Red gum makes the bows.
Jelly candies are in the side windows - cut in the shapes that you see.
Coconut snow and marshmallow bushes with icing.
And those round, yummy sticks of swirled chocolate finish the sign.
Royal Icing makes up the rest.
The base is 18"x18". This was my first showpiece house and therefore I practiced several times at home to find the right recipes and products. I wanted the details to be different candy types to stay away from too much icing. Had a great time creating this- can now appreciate how much work they are!