Magical Chicken Coop
by Tess Sweet
(Boulder Creek, CA)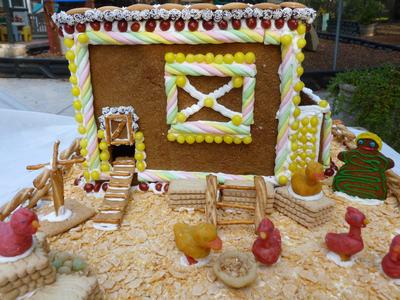 Gingerbread Chicken Coop
We built our amazing magical chicken coop in honor of our first year raising chickens. Although we had never built a large scale Gingerbread house before, we ended up getting really into it!

When we read an ad in the paper about an upcoming Gingerbread House contest, we decided it would be a fun thing to do as a family.

Our finished coop was featured in the Santa Cruz Sentinel and the reporter interviewed us about every detail of its creation.

Although we didn't win the award, we know we deserved it! (It was mysteriously awarded to the husband of the woman who ran the contest who built a house out of graham crackers the night before!)

This year, we are making a barn. Stay tuned!