Gingerbread Ice Cream Sandwiches
If you love ice cream sandwiches, you're going to LOVE them made out of gingerbread men!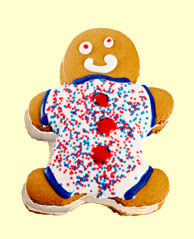 They're practical...
Ice cream and cookie sandwiches are a terrific way to make ice cream portable without a cone (or a cup or bowl.) I'll bet you never thought of that, huh?
They're fun...
You can squish the ice cream out the sides of the cookies (in this case, gingerbread cookies of course!) and lick or nibble it until there's JUST enough ice cream left to start biting the cookie. I'm sure you've eaten them this way too, but you've probably never heard anyone actually describing this technique, have you?
They're delicious...
All ice cream sandwiches, store-bought or home made are yummy, but you haven't lived until you've tasted one made out of gingerbread. OK, you've probably lived, but you'll enjoy it anyway. Gingerbread is definitely NOT just for winter time!
How to make Gingerbread Ice Cream Sandwiches
Gingerbread Cookies
Start by making gingerbread men cookies - click here for the recipe. Or... you can cut out gingerbread cookies in any shape you want. Try astronaut ice cream sandwiches for a birthday party or star sandwiches for Independence Day, heart-shaped cookies, or any shape you have the cookie cutter for (of course, you can also cut each out by hand with a knife for a truly one-of-a-kind cookie.)
Shapes, like firetrucks, pumpkins, astronauts, or dinosaurs are perfect for kids' party desserts. No cake-cutting required and no begging for a certain special part of the cake icing! Let kids assemble and decorate the dessert sandwiches at the beginning of the party and then eat them a few hours later when they've hardened!
You can also buy pre-made gingerbread cookies to simplify things of course. Dare I say it on a gingerbread site? Yes, you CAN follow these same instructions with ANY kind of cookie. Gingerbread just happens to be make a delicious recipe that most people might not think of.
Tip: Freeze the gingerbread cookies an hour or two before starting and your ice cream is less likely to melt while assembling. Never try this with cookies right out of the oven... unless you want to be covered in melted ice cream!
Ice Cream
You can use store-bought ice cream OR make your own. Just about ANY flavor ice cream tastes good with gingerbread so have fun with it. A really good homemade vanilla goes great with the ginger.
For TONS of ideas and recipes for ice cream, check out this website all about ice cream: serving-ice-cream.com
Let the ice cream sit out of the freezer for a short while to soften just a bit (not too much!) When you're ready to assemble, lay 1/2 of your gingerbread men (or other shaped cookies) out on a cookie sheet or tray covered in wax paper. Then, scoop some ice cream onto the cookies. It's best to spread it around the cookie a bit so it doesn't press out in one direction when you add the top cookie. Once you've gotten a good, thick layer of ice cream on your bottom cookie, press the top cookie on with a bit of pressure to evenly distribute the ice cream AND to make sure it all holds together well.
If the ice cream gets too soft in the process, return it to the freezer, freeze the sandwiches you've already made, and complete the process a little later once the ice cream has firmed up.
Decorating
This is the fun part... You can decorate the top of each ice cream sandwich and/or all around the sides. To really make this dessert feel special (for kids or grown ups alike,) roll the sides in sprinkles (or pick up the sandwich and sprinkle them on) and THEN decorate the top of the gingerbread cookie with icing and candies.
Did you know that August 2nd is National Ice Cream Sandwich Day?
Strange but true. No, we haven't found any actual proof that this "National Holiday" was decreed by anyone with authority. For all we know, some ice cream company made the whole thing up and the rumor spread. But, since we love this particular dessert, we'll continue to spread the word by announcing it here.
If YOU make a gingerbread ice cream sandwich on August 2nd, National Ice Cream Sandwich Day, or anytime, come back and share your pictures here!
---
Return Home from Gingerbread Ice Cream Sandwiches page.
---