Have a Fairy Merry Christmas
by Dotty Curry
(Fargo, ND)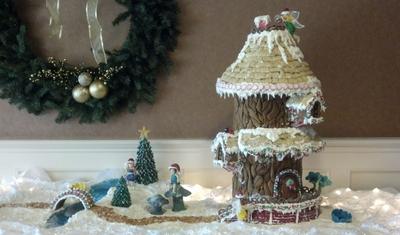 I created this display for the reception area of the Fargo Country Club in Fargo, ND. There are no competitions to enter around here, but I like to just see people enjoy it. I do a different theme each year. This year I wanted some Christmas magic.


The tree and bridge are gingerbread, the roof is shredded wheat, the snow is royal icing, The path is peanut brittle, the river and fairy wings are poured sugar and everything else is sculpted from colored marzipan candy.
The tree stands a little over 3 feet tall.
All 4 pictures are of the same display