Ginger-go-Round with gingerbread reindeer
by Valerie
(Brooklyn, Ohio)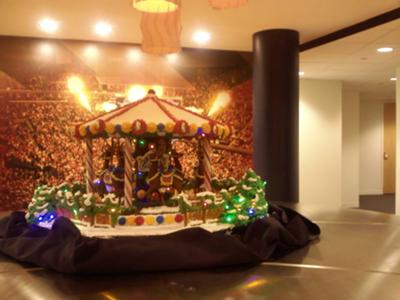 Ginger-go-Round
Here is this year's gingerbread (logo not pictured) for the Cleveland Cavaliers. This carousel structure is totally made of gingerbread, royal frosting and candies...yes, even the reindeer. I found a place online that sells food grade molding silicone for baking. I had fun making the reindeer, but had trouble with the legs. The gold candies around the top are gold dipped Jordan almonds. The only things not edible are the lights and the toothpicks holding the legs together. The deer antlers are pretzel mini's, cut and glued back in that shape.


This was by far the hardest and most expensive gingerbread I've ever done. I started this at the beginning of November and finished it on December 19th. I made my own templates and had to have help assembling it because at times I needed more than two hands to get it into place...thanks to my husband and kids for the help. There are more picures on my photobucket page. I plan to post some of it in progress on there too. I hope you like it...
~Valerie
Join in and write your own page! It's easy to do. How? Simply click here to return to Gingerbread House Photo.