Gingerbread House Blog
The Gingerbread House Blog covers All Things Gingerbread!
We share our favorite recipes, tips on icing and decorating, free patterns and templates, and photos of gingerbread houses from plain to intricate to down-right strange.
Click on that orange button to subscribe to this RSS feed and stay up-to-date on the latest and greatest Gingerbread House news.
Alaskan Dog Sled Race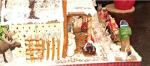 I have always wanted to depict the Iditorod Dog Race in gingerbread. There was a Pop Tarts competition on-line, so I entered.