Gingerbread House Blog
The Gingerbread House Blog covers All Things Gingerbread!
We share our favorite recipes, tips on icing and decorating, free patterns and templates, and photos of gingerbread houses from plain to intricate to down-right strange.
Click on that orange button to subscribe to this RSS feed and stay up-to-date on the latest and greatest Gingerbread House news.
The Christmas Garland House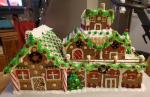 All my nieces and nephew's came over the night before to make their houses and the next day I used all the leftover stuff to build this house.