Gingerbread ChristChurch Cathedral- New Zealand
by aaron
(New Zealand)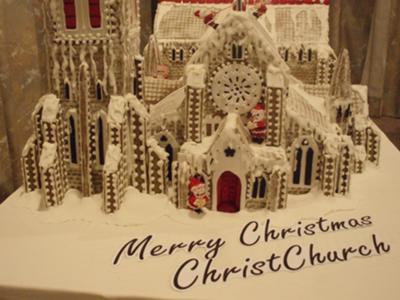 80 hours, 250 pieces of GB and 150 pieces of fondant icing.


Made by Kaiapoi Chef Aaron Campbell to honour the ChristChurch Cathedral after the August 2010 display of "the World's Largest Pavlova" inside the Nave of the Cathedral. A 5metre by 10metre (15ft by 30ft) crispy shell meringue dessert which raised money for the official charity of the All Blacks- KidsCan StandTall.
The brick work is raised with icing filling in the grout and the tiles on the roof are each sunken and filled. The red candy on the roof peak are called Jaffas and a few Santas are dotted around too.
It measures 95cm long, 50cm wide and 65cm tall (approx.)