Gingerbread castle
by Anastasia
(Greece (As in Europe Greece))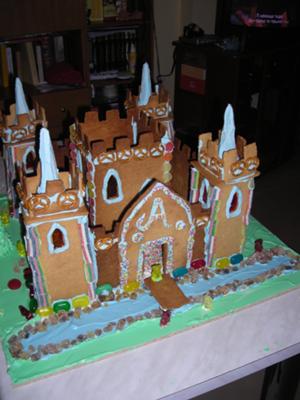 Front view
I am not a professional baker, but I bake gingerbread houses and sell them during holidays. A friend ordered me a castle for a christening. I got the template and started working. The most difficult part was baking. The pieces got quite big and the dough tend to curve when baked.

I made a carton castle prior to the "real one". The Christening had a No Chocolate rule so I did not use M&ms or other chocolate stuff. In my opinion some m&ms would make the castle more colorful but still everyone was impressed at the Christening. Here is a pic, the boys name was Alexander hence the big A on the door.
Join in and write your own page! It's easy to do. How? Simply click here to return to Template-Built Gingerbread House Photos.