Claire's 30 Bday Cake
by Jo O
(Drouin, Victoria, Australia )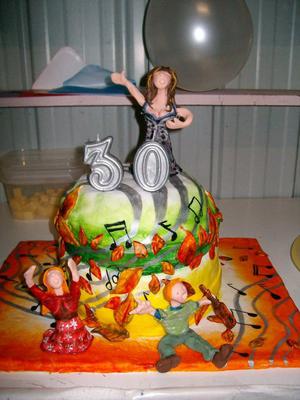 Claire's 30 Music Singing Autumny Birthday Cake 2011
This was a cake I made for a friend's 30th

All I got given was she loved Autumn cos her birthday was in Autumn; it was her favourite time of year. She also loved singing around the house with her family with her lil boy & older girl. They all loved music and so she wanted to show them enjoying music by singing like they would sing along to a cd or radio.

My interpretation of it was in this cake pictured. :) LOL
Was a triple layer from memory. All fondant & painted on fondant.
Join in and write your own page! It's easy to do. How? Simply click here to return to Fondant and Gum Paste Photos.