Castle
by Wendy Johnston
(Belfast, Northern Ireland)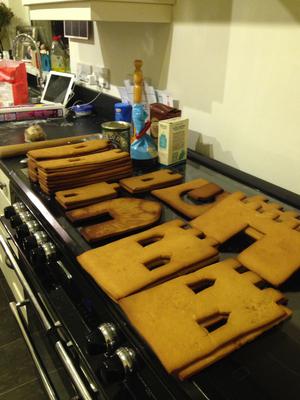 All the pieces
I've made gingerbread houses for a few years now but this year was looking for something different so I purcheased the castle template from your site. It was so much fun! I used a dough recipe that was much more structural rather than for eating. It was so easy to make and stays in shape more because there is no rising agents. You can get the recipe from here:


http://easteuropeanfood.about.com/od/crossculturaldesserts/r/gingerbread.htm
I used melted sugar as the glue to construct my house and it hardened almost instantly so I didn't have to wait for each section to set before moving on.
I've attached a few photos.
Join in and write your own page! It's easy to do. How? Simply click here to return to Template-Built Gingerbread House Photos.