Audrey's Gingerbread House
by Audrey Parker
(Phoenix, Arizona, USA)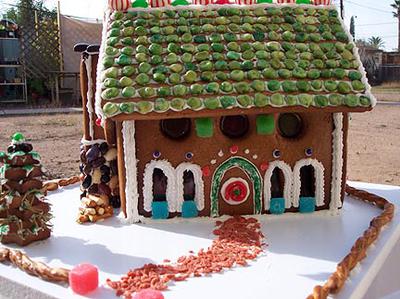 Front view
This is the Gingerbread house that I just entered for the NHS Phoenix 'Home Sweet Home' fundraising event. All gingerbread creations will be auctioned off on Dec. 7, 2013.

This was my first time making gingerbread, and of course, a gingerbread house.

The roof has fried peas (a Hispanic/Middle Eastern snack item). The walkway in front is imitation bacon bits. Lower level windows have gelatin sheet 'panes' and the upper windows are melted cinnamon or butterscotch candies.