3D kangaroos for an Australian Christmas. (6 white Boomers) Also maybe an old queenslander house for the Aussie's too?
by Michelle
(Brisbane, Queensland, Australia.)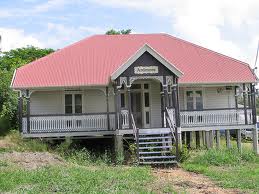 Queenslander home for gingerbread house template
Queenslander homes were built in the 1800's and there is still many restored throughout Australia and are very popular. They were all designed on stilts to withstand our floods and high wind storms. They have large verandahs along the front of the house. They are made with hard wood timber inside and out. Commonly with a water tank on the side and front stairs coming down fashionably in the middle of the verandah.
The 3D kangaroo template would be great to add a Christmas theme of the Rolph Harris song 6 White boomers and could be used with your sleigh template.

I would love to make this up and would send you plenty of pictures if I were to make it. I have made many gingerbread houses but never in an Australian theme.
I hope you like my idea.
Thanks for any interest!

Join in and write your own page! It's easy to do. How? Simply click here to return to Request a Gingerbread Template.